Ubiquiti Unifi AP LR (UAP-LR) 2.4 Ghz b/g/n Enterprise WiFi System
1,550,000 Rp.1,350,000 (maaf kosong)
Klik tombol chat untuk pesan dan cek stok
akses poin indoor terbaru dari ubnt. dengan desain unik, dapat dipasang di atas plafon. radius indoor mencapai 180 meter / 600 feet. tersedia software control panel canggih, sehingga mengontrol banyak akses poin menjadi mudah. Cocok misal untuk pemasangan di hotel, apartemen, restaurant, dsb. UniFi is a revolutionary WiFi system which combines carrier class performance, unlimited scalability, disruptive pricing, and a virtual management controller. Save money. Save time. Unlike traditional enterprise WiFi systems utilizing a hardware WiFi Switch, Unifi uses a virtual client/server application that requires zero cost and no additional hardware. Intuitive Software Install, configure, and manage all of your UniFi Wireless Access Points with the intuitive and easy to learn UniFi User Interface.
The UAP-LR has a larger range than the base model UAP with a range of up to 600 ft. It also offers 802.11n MIMO, with speeds of up to 300 Mbps.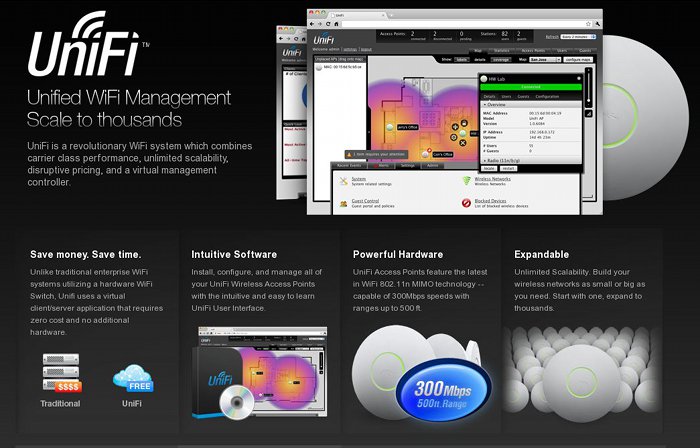 Powerful Hardware UniFi Access Points feature the latest in WiFi 802.11n MIMO technology -- capable of 300Mbps speeds with ranges up to 600 ft. Expandable Unlimited Scalability. Build your wireless networks as small or big as you need. Start with one, expand to thousands. Software Overview Hardware Overview Downloads 300Mbps speeds, 600ft range The UniFi AP uses a clean industrial design that seamlessly blends into typical environments. The AP's are feature the latest in WiFi 802.11n MIMO technology. All accessories are included to mount the devices either on the wall or ceilings. Also included is Power Over Ethernet (POE) functionality which allows both power and data to be carried over a single Ethernet cable to the device. At the front-center of the device is a status LED ring which can provide the administrator with location tracking and alerts for each device.