Cuci Gudang: TRENDnet Network Storage TS-I300 x 3 + 2 HD 18GB
4,500,000 Rp.2,899,980 (maaf kosong)
Klik tombol chat untuk pesan dan cek stok
Cuci Gudang. TRENDnet 1-Bay IDE Network Storage Enclosure TS-I300 sebanyak 3 dus / 3 unit , ditambah Harddisk IDE refurbished 18 GB sebanyak 2 buah. Jumlah terbatas.
* Expand your storage capacity in minutes * Access and share your data from the Internet * Control access and content with a feature rich management interface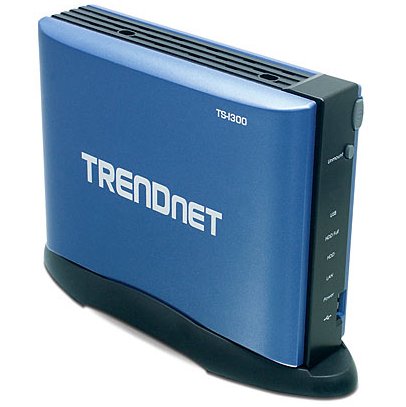 The USB 2.0 IDE Network Storage Enclosure is perfect for adding storage to your network. It includes a Web based utility for simple configuration and management. Most major operating systems are supported. The USB 2.0 IDE Network Storage Server is a simple and secure solution for expanding network storage.
Built-in one 10/100Mbps Auto-MDIX Fast Ethernet LAN port
Embedded one 3.5" IDE Hard Drive bay (HD not included)
Supports Hard Drive up to 400G
Built-in two USB 2.0 ports for additional storage devices
Supports two modes: Open mode and Account mode
Provides FTP Server for remote access
High security support with IP address filtering to ALLOW or DENY access
Support USB storage devices such as hard-disk, flash disk and CD-ROM
Schedule downloads with FTP or HTTP without turning on the PC
Provides email notification service when HD is full, critical error or modification information
Support real time clock (RTC) and UPnP for Windows XP
Compliant with Windows 98(SE)/ME/NT/2000/XP and Linux SMB Operation System
Provides Easy-Search utility for different IP domain setting
Hardware Standards * IEEE 802.3 * IEEE 802.3u * USB 2.0, 1.1 Microprocessor RDC 3210 (150Mhz) Flash ROM / RAM 4MB Flash / 32MB SDRAM IDE Controller ITE IT8211F Interface * Power / Reset / Un-mount USB buttons * 1 x 10/100Mbps Auto-MDIX RJ-45Port * 2 x USB 2.0 Type A port (Hard-Disk/Flash-Disk/CD-ROM, not included) * 1 x Internal IDE HD Bay (HD not included) LED Power, LAN, IDE HDD, IDE HDD Full Power Consumption 36 watts (max) Power 12V DC, 3A Dimensions 200 x 154 x 60mm (7.9 x 6 x 2.4in) Weight 0.7kg (1.5 lb) Temperature * Operation: 5°C ~ 40°C (41°F ~ 104°F) * Storage: -20°C ~ 50°C (-4°F ~ 122°F) Humidity 90% ~ 95% (Non-Condensing) Emissions CE, FCC Software Real Time OS Embedded Linux (Kernel version 2.4.25) Network Transfer Protocol TCP/IP Network File Protocols * Microsoft Networks (CIFS / SMB) * Internet (HTTP 1.1) * FTP Supported HD Type ATA/IDE up to ATA/133 File System Type * IDE Drive: (UP to 400G) : EXT2 * USB Drive: FAT16 / FAT32 / EXT3 / EXT2 / NTFS (read only) Disk Management * Hard Disk Failure Detection (S.M.A.R.T) * Disk Used Status Management System Management * Web Management (Internet Explorer 5.0 or later) * System Temperature Monitor * System Software Upgrade * Support Network Time Protocol * Multi0Users Account / Session Setting System Monitoring * System Log * E-Mail Alert * IP Address Filtering (Allow or Deny) * Account permissions for directory