Openbravo POS 2.20 + Tutorial (1 CD)
Rp.10,000
Klik tombol chat untuk pesan dan cek stok
Aplikasi kasir (POS) open source yang sangat powerfull, mendukung touchscreen, barcode dan multiplatform.. 10.000 instalasi baru setiap bulannya di seluruh dunia. Apakah anda termasuk?
---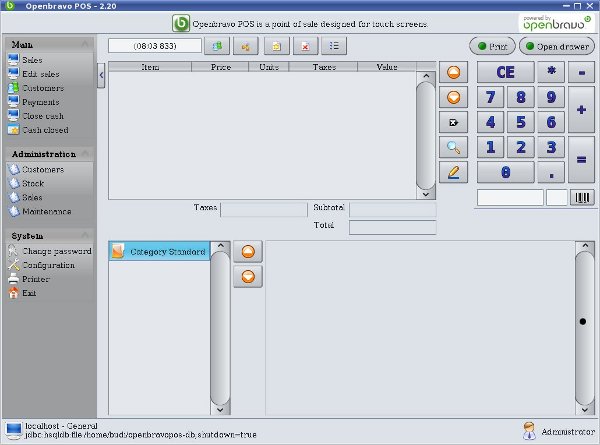 Did you know that with almost 10,000 installations per month, Openbravo POS is the leading open source Point-of-Sale (POS) application in the retail industry?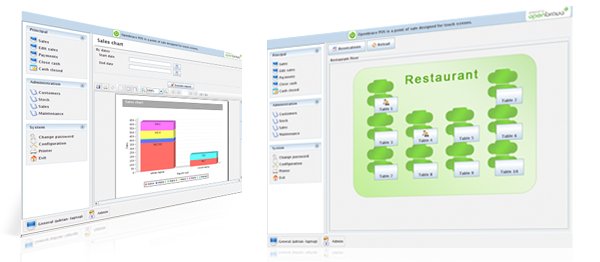 Openbravo POS is a point of sale application designed for touch screens, supports ESC/POS ticket printers, customer displays and barcode scanners. It is multiuser providing product entry forms, reports and charts.
Openbravo POS offers all the rich functionality demanded by leading retailers, including sales, refunds, daily reports, cash management and warehouse management, and more. By clicking in each one of the modules in the image at left you will access a list with some of the most relevant related characteristics. * Do you want to better understand Openbravo POS business benefits ? Go to the Openbravo POS main page. * Do you want to further review the Openbravo POS product? Visit our Demo Center or our Wiki. * Are you already willing to implement Openbravo POS in your business? Get Openbravo POS now!. * Are you willing to contribute to the development of Openbravo POS? Contributions to the code base are welcome, including bug fixes, improvements and add-ons. Contributions can be made in different ways. Please refer to our Wiki for more details. Master Data Management Products, categories and subcategories, images, taxes, warehouses, restaurant areas and table layouts, users and roles, etc. * Correctly organize and centralize the key data of your business. * Guarantee the coherence and tracking of processes. Sales, Refund and Cash Management Editing of receipts, product search, tax management, bar coding, discounts, promotions, payment, etc. * Flexibly edit multiple receipts from one or many terminals at the same time. * Allow for multiple payment methods. * Easily integrate the POS with third party peripheral systems. * Effectively manage refunds. * Avoid all kinds of headaches when managing cash. Warehouse Management Product properties, product movements, inventory count, product receipts, etc. * Seamlessly manage multiple warehouses. * Keep your inventory constantly up to date. * Know the exact localization of your stock at any time. Reports and Charts Reporting, filtering, charts, etc. * Monitor the state of your retail business. * Get the information you need... on time. * Improve your decision-making process. Restaurant Module Reservation management, customizable restaurant areas, occupation, etc. * Manage from end-to-end your reservations. * Personalize the different restaurant areas for easier identification. * Know your restaurant occupation at any time. Security Roles, users, access restrictions, etc. * Secure the access to your POS solution. * Manage multiple roles and user profiles. * Protect most sensitive actions.