USB Combo Argtek Wifi + Bluetooth +5dBi Ant.
350,000 Rp.125,000 (maaf kosong)
Klik tombol WA untuk pesan dan cek stok
802.11b/g WLAN+Bluetooth Combo USB Adapter with 5dBi Antenna, usb wireless b/g sekaligus bisa juga sebagai bluetooth adapter. cocok buat yang ga pengen repot, satu alat dengan 2 fungsi sekaligus. antena 5 dbi bawaannya memiliki gain yang kuat. 2 in 1: WLAN + Bluetooth USB Combo Dongle (with RP-SMA + 5dBi Antenna). This Combo dongle is SINGLE interface for both WLAN and Bluetooth. You can run both WLAN and Bluetooth at the same time in your computer. It's a easy and cost efficiency way to upgrade your Desktop PC & NB with WiFi and Bluetooth functions ready in a minute.
- Patented technology for WLAN and Bluetooth coexistence - Bluetooth 2.0 + EDR (class 1) - Compatiable with IEEE802.11b/g WiFi - More power with 5dBi High Gain Antenna - USB 2.0/1.1 interface - With STK Chipset BlueW-2310 - the same chipset of BlueW-2310 miniCard (the first WiFi+Bluetooth Combo Dongle owns the SRRC certificate)
Specification Chipset STK9100 + STK9230 ( BlueW-2310 ) Features WIFI & Bluetooth works together at the same time Certification Microsoft Vista/Vista-64 WHQL certification Interface USB 1.1/2.0 Support OS Windows 2000/ Windows XP/ Windows Visa/XP-64 / Vista-64 Linux Operating temperature 0 ~ 55 Celsius Wireless LAN Standard IEEE 802.11b/g Frequency Band 2.412GHZ ~2.484GHZ unlicensed ISM band Data Rate 54, 48, 36, 24, 18, 11, 9, 6, 5.5, 2, 1Mbps Transmitter Power 11g : 17dBm for OFDM mode 11b : 20dBm for CCK mode Receive Sensitivity Operating at 6Mbps:<-88dBm , 54Mbps:<-75dBm Security 64/128-bit WEP, WPA, WPA2(AES/TKIP) encryption Support Microsoft Windows Zero Configuration to set up WiFi Bluetooth Standard Bluetooth v2.0 + EDR class 1(100 meter) Modulation AFH (Adaptive Frequency Hopping) Profiles provide Serial Port, Dial Up Networking, File Transfer, Human Interface Device, Headset, Advanced Audio Distribution, Object Push, Synchronization, LAN Access, Personal Area network, Fax, Basic Imaging Certification Bluetooth BQB Certification Support up to 7 active Bluetooth devices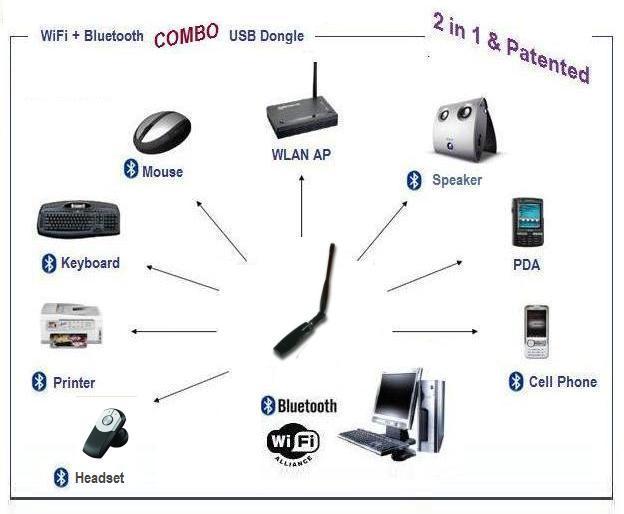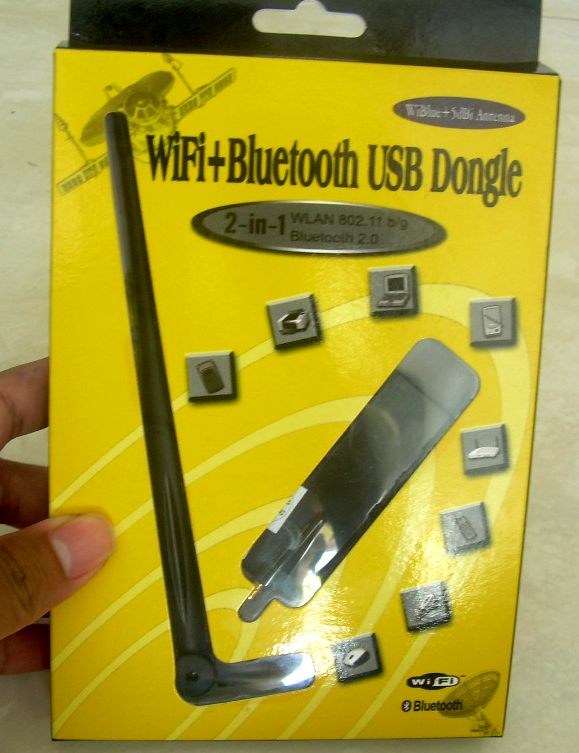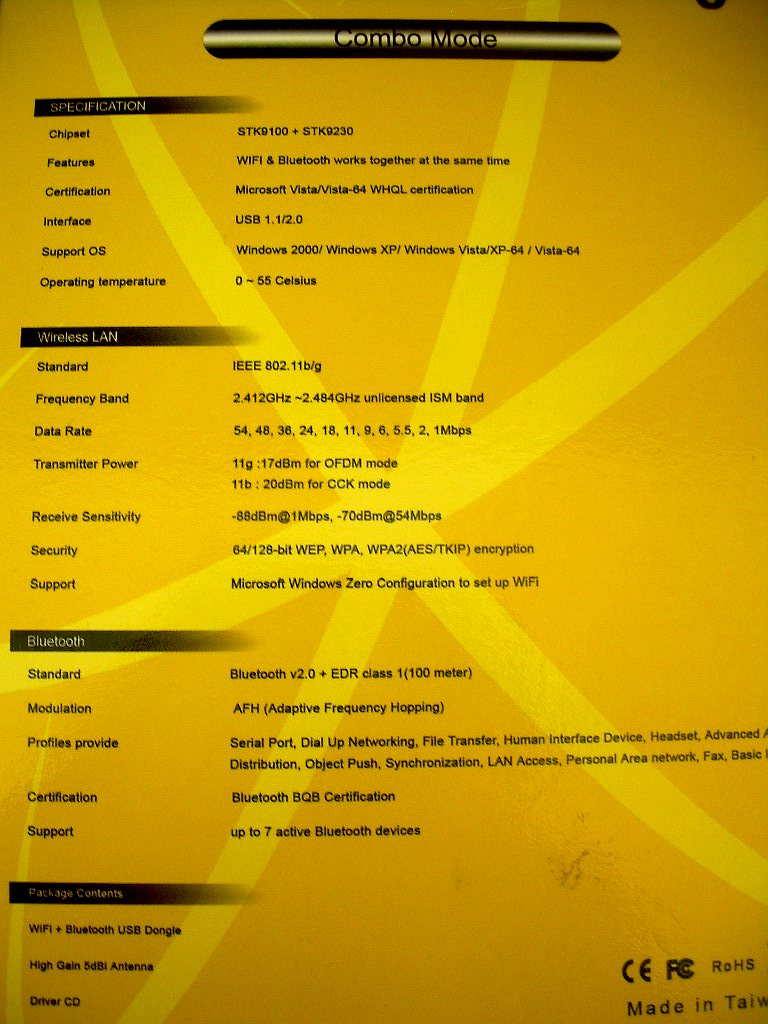 made in taiwan