Mandriva Linux Powerpack 2009 Box Version (1 DVD + Key +Support)
850,000 Rp.255,000 (maaf kosong)
Klik tombol chat untuk pesan dan cek stok
Mandriva adalah distribusi linux yang terkenal berkat inovasinya menjadikan penggunaan linux mudah dan menyenangkan. Dengan pengalamannya lebih dari 10 tahun, menjadikan distribusi ini tidak perlu diragukan lagi support dan eksistensinya.
Produk ini adalah versi resmi dan berlisensi dari Mandriva. Anda akan mendapatkan nomor/kode serial/registration number, DVD installer, dan support selama 3 bulan di http://expert.mandriva.com
Pilihan tepat bagi Anda / instansi yang ingin bermigrasi ke Linux, dengan mudah, user friendly, serta dukungan support yang jelas.
---
Mandriva Linux 2009 is out - One of the most ground-breaking releases of Mandriva Linux! Mandriva offers its users a clear alternative on the desktop. A complete, easy to use solution, it provides all the features expected of a modern desktop: office, Internet, multimedia and games. Mandriva Powerpack 2009 is the best of Mandriva: a selection of the best open source software, with exclusive additions

Mandriva Linux 2009 Release Tour

* KDE 4 - specifically, 4.1.2. This major new release of KDE promises to revolutionize the desktop experience. * GNOME 2.24 * OpenOffice.org 3.0 - Includes ODF 1.2 support, import filters for Microsoft Office 2007, a solver feature for Calc, collaborative editing of spreadsheets, multiple page display in Writer, native tables in Impress * Mozilla Firefox 3 - includes Smart Location Bar, improved performance and reduced memory consumption, one-click bookmarking, a built in password manager, and improved security features. * No less important are the major re-designs of the Mandriva installer and Control Center tools. Simple to use, more ergonomic, this is one of the most important reason to use Mandriva Linux. * Kernel version is 2.6.27: better hardware support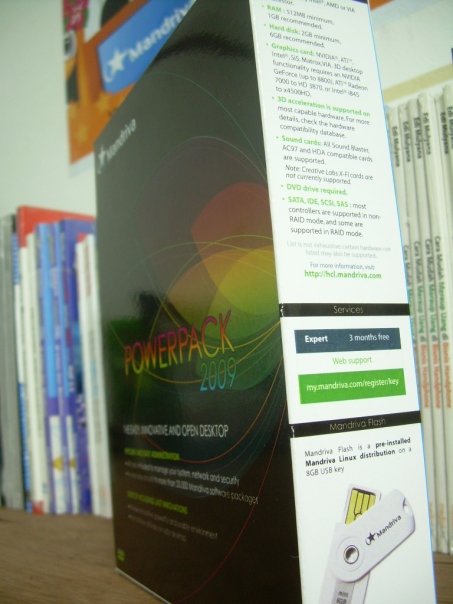 Hardware compatibility: Mandriva Linux 2009 is netbook friendly As always, Mandriva Linux 2009's hardware compatibility is second to none. As well as conventional systems, it boasts excellent support for a wide range of netbooks, including all currently available Asus Eee PC models, the Acer Aspire One, the MSI Wind, and others.
Enhancements to Mandriva tools and applications
* Re-designed installer and Control Center: Simple to use, more ergonomic * Removal of unwanted software during One installation: optimized space disk * Automatic repository configuration: simply access to 20.000 packages * Improvements to network tools: Mobility, better support, mobile connection configuration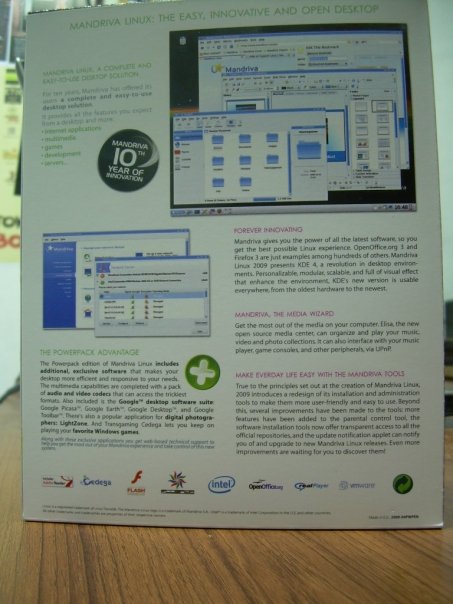 The Powerpack advantage
* The Powerpack edition also provides a set of audio and video codecs to read the most commonly used formats, also Google applications (Picasa, desktop, toolbar, GoogleEarth), LightZone (trial version) and much more... * Along with this software comes exclusive service, offering you a helping hand with your experience and web support to help you get the best out of Mandriva.
Included services
* Web support: 3 months through http://expert.mandriva.com